Half Square Triangles
There are many ways for quilters to use their stash. Using half square triangles is one very successful way to make a quilt. One of the benefits of this is that you can make a whole lot triangles and then audition them for different designs.
I came across the book 'Spectacular Scraps' by Judy Hooworth and Margaret Rolfe. Here they have used triangles to make a range of different quilts. On page 11 they show 256 ways of arranging 4 half square triangles. This was first worked out by the French monk Dominique Douat and was published in a paper in 1704.
To make accurate quilts using triangles I use Marti Michell's templates. This method rounds the corners of the triangles when cutting them, thus removing the dog-ears that add unecessary bulk to your seams and making it easier to get accurate seams and joins.
Following is my method (complete with photos) showing how I make one of these fabulous quilts. This one is for a single bed. I have used two colors - pink and white on black. I had initially thought of also using black on white fabrics but as I progressed they just didn't work.
Step 1: Select fabrics from your stash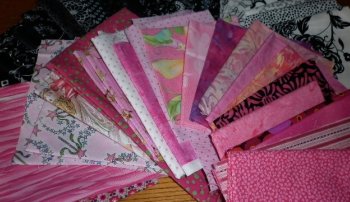 Step 2: Select triangle size - I used a 3" triangle from Marti Michell's Set A
Step 3: Cut fabric into strips (where possible)- I cut my strips 3 1/2" wide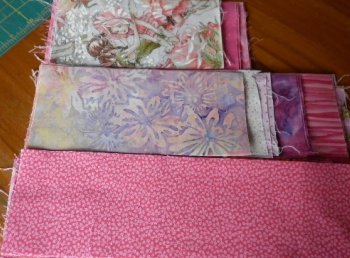 Step 4: Using triangle template cut triangles from strips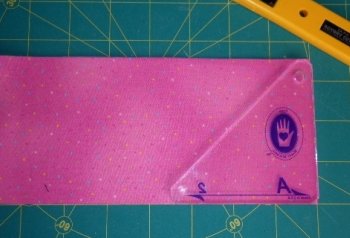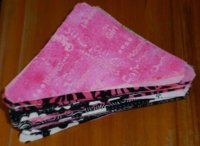 Step 5: Audition different designs to find the one you like the best
Step 6: Sew triangles together forming squares
Step 7: Sew squares together in rows and then sew the rows together
Step 8: Attach your border and complete your quilt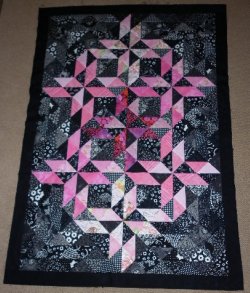 Following are a few quilts I have designed using EQ7 to show you how versatile the triangle can be.
Sign up for my newsletter below!