Friendship Star

Block of the Month - 9 1/2" block (unfinished)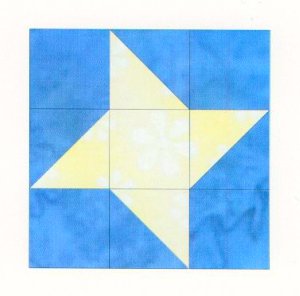 This friendship star block is another popular but easy block to construct. Once the blocks are made there are a range of different things you can do to these blocks before sewing them into a quilt.

Below I have listed a couple:
Sew a border(s) around the block
Choose to use with an alternating block

Off set the block within an inner angled border then sew on another angled border to have the block sitting square again. I have used this technique here in my Alice in Wonderland quilt. The original block is sitting behind Alice and you can see I have added 2 borders to this block - the first to offset it and the second to straighten it up.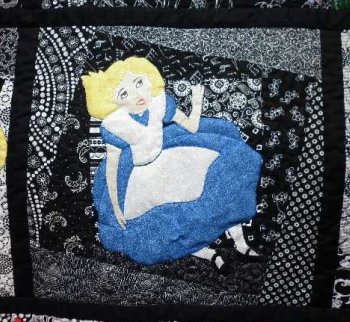 Here are the instructions for the making of this block:
Colours: Brights (red, yellow, green, purple, pink) with background of medium to dark blue.
From your background fabric cut these:
Cut 4 - 3 1/2" squares - these are 'A'
Cut 2 - 3 7/8" squares - these are 'B'
From your bright fabric cut these:
Cut 1 - 3 1/2" square- this is 'A'
Cut 2 - 3 7/8" squares - these are also 'B'
Click on the image below to download a PDF of this BOM.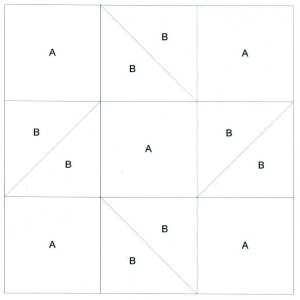 Put right side to right side, background 'B' with bright 'B'

Rule across the square on the diagonal, then rule either side of this line 1/4" **see diagram at right**


Stitch on both 1/4" lines then cut along the center line, this forms the points of the star, press light fabric seams towards the dark fabric.

Use 1/2" seams allowances to join the block. See diagram below.

---
Sign up for my newsletter below!