Free Nine Patch Quilt Patterns
Free nine patch quilt patterns are perfect for quilters of all skill levels, including beginners. They are made using the very popular and traditional nine patch block. The block is made up of 9 equal squares that are arranged three rows across and three rows down, like the simple nine-patch quilt blocks used in the first quilt pattern 'Verna' below.
There have been many variations of this block over time. Some are symmetrical and some are distorted. Often the nine patch block is combined with other blocks. All of these can be found in the patterns below.
The second quilt pattern 'Park Avenue' below shows one of the hundreds of nine-patch block variations. Its called the double nine-patch, it replaces single square units at the center and corners with smaller nine patch blocks.
To ensure the success of your free nine patch quilt patterns there are several tips to follow:
All seams are sewn at a 1/4"
Most of these quilts can be made in strips or rows. If this is the case press the alternate rows seam allowances in the same direction and the other rows in the opposite direction. This reduces bulk where the seams intersect. It also makes it much easier to align the seams up.
Use a design wall to lay out the quilt pieces before sewing. This will allow you to change or reposition any offending pieces more effectively. It beats unpicking later!!!
Strip Piecing Technique
The nine patch is an ideal block to be made using the very fast strip piecing method. This is a technique made possible by using the rotary cutter and sewing machine. The instructions below are given for a two toned 9" nine patch block.
Step 1. Cut 6 strips of fabric 3 1/2 " wide. Three in each color.
Step 2. Sew strips together alternating colors using a 1/4" seam. It is best to sew using a slightly shorter stitch length as this will help prevent the stitches from pulling apart as pieces are going to be cut from these strips.
Step 3. Press seams
Step 4. Cut the strips into 3 1/2" lengths using a rotary cutter. Sew strips together to form nine patch block.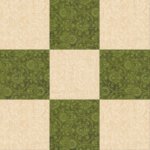 Enjoy Free Nine Patch Quilt Patterns!!
---
Sign up for my newsletter below!