DJ Triangles
and Kites

My DJ triangles were quite a challenge to make. After making so many square blocks I really had to think twice while making these.

I have found it very helpful to make each triangle slightly larger than required. Occasionally I noticed that the block I was sewing together wouldn't always behave as it should - so I know having slightly bigger blocks will give me the extra fabric I'll need when trimming them down to the correct size.

I did this by marking each pattern edge piece with an arrow - reminding myself which piece could be cut with a little extra fabric on that side. I have shown one of the triangle block patterns below with these arrows.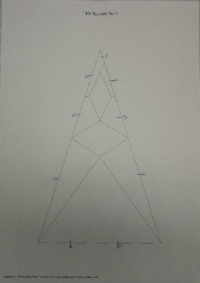 I highly recommend buying the triangle template from the official Dear Jane website so that all your triangle blocks can be trimmed to the exact same size.

I made all my triangles following the instructions on that quilt blog.
At the bottom of each blog entry Anina has a link to her next/previous entry. I followed these until I came across how she recommends sewing the boarder blocks together.

Here are my boarder blocks. They are all still too large as I will trim them down when I'm ready to sew them together.
Top Row 1 - 13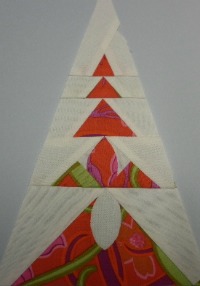 At the time of posting this page I noticed that I have left most of the foundation paper pattern pieces still in the blocks as well as still needing to trim away the second layer of fabric on some blocks - this shows through especially on block TR8.
Right Side 1 - 13

Bottom Row 1 - 13
Left Side 1 - 13
Kites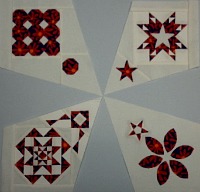 Sign up for my newsletter below!