Depression Block

Block of the Month 12 1/2" x 12 1/2" (unfinished)
This beautiful traditional 'Depression Block' is made entirely from my scraps - keeping true to the ladies in the 1930s who made their quilts from the scraps of fabric they had available to them!!

It is made out of half square triangles and using only two colour ways, a dark and a light. When selecting your fabric all colours are suitable!!
There are several different methods you can use to assemble your half square triangles, it makes no difference to the end block so do the one that suits you the best. For this block I took the long but simple method of cutting each triangle and chain piecing them together.
If when your block is completed you notice a wee pucker or two along your seams don't panic! I had one and applied a wee bit of spray starch then watched it disappear while ironing the starch dry - magic!!
Each block is made 12" x 12" finished. You will notice that I designed this block using the quilting software EQ7. It's fun to play with and then when you have completed designing your block it does all the hard work of creating a pattern and gives fabric requirements. I made this BOM for my quilting group to use in 2015. I hope you enjoy it!

Click on the images below to download a PDF for this BOM.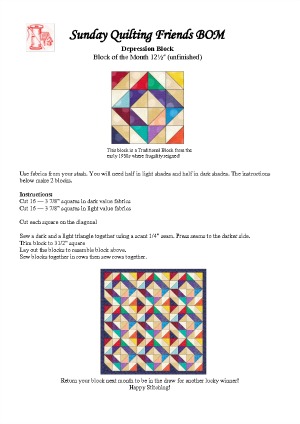 Depression BOM Sheet
Depression Block Rotary Cutting Guide
My advice when making this quilt block:
Take your time when cutting your fabric

as accuracy

does pay off when it comes to sewing all those triangles together

Iron your diagonal seams towards the darker fabric

When sewing the blocks together into rows make sure to iron the seams in the same direction for each alternate row. This helps in getting the seams to nest together and the finished block looks fabulous!

Remember to square up the finished blocks to 12 1/2" x 12 1/2" before sewing them together

I recently rediscovered Marcia Hohn's site The Quilter's Cache. Here you will find a very very large collection of blocks complete with block assembly suggestions for free and also photos of blocks and quilts that people have made using her patterns. It's a large site so I enjoy short visits for inspiration!

Sign up for my newsletter below!