CupCake Party Quilt
18" x 23" Dolls Quilt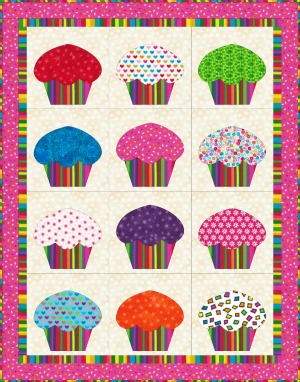 My CupCake Party Quilt measures 18" x 23". It is made up from 12, 5" square blocks each with a very cute appliqué cupcake. The design is simple, adorable and very easy to make. I have designed this quilt to be made with raw-edge appliqué. If you are wanting to turn under the raw edges first then you will need to add extra fabric onto the templates.
To make this quilt you will need a selection of bright fabrics for the cupcakes, neutral fabrics for the background and fabric for the borders.
When doing appliqué I find it best to stabilize your backing fabric first. This will stop the puckered edge from happening when you are stitching on the cupcakes. The easiest method is to use spray starch (available at the supermarket). Here is how I do it:
1. Cover ironing board with an old towel or similar.
2. Spray a light coating of starch on background 5" square then iron with a dry iron.
3. Repeat till fabric resembles very fine card. Usually 2 or 3 applications.
You can do this to all the backings at the same time. Once your quilt top is finished most of the spray starch will have gone.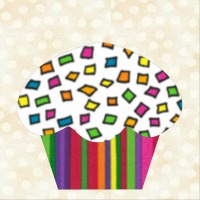 To prepare your appliqué here is what I do:
1. Trace around the appliqué template onto steam-a-seam. You will do this 24 times - 12 cups and 12 tops. Rough cut each out - not on the lines but about a 1/4" or so away.
2. Peel off & discard the paper backing that doesn't have the pattern drawn on it. Then place the template on the wrong side of fabric. Press.
3. Cut out carefully along lines.
4. Peel off the second paper and discard. Position cupcake right side facing centrally onto the right side of the 5" background fabric. Press.
5. Machine stitch around the appliqué using your preferred stitch. I use a blind stitch in matching thread.
Arrange your finished cupcake blocks in the desired format. Sew each block together in rows. Then sew the rows together.
Add borders as per pattern.
Quilt and bind using your preferred method.
Click on the images below to download the CupCake Party Quilt pattern and templates.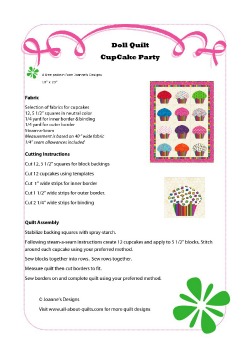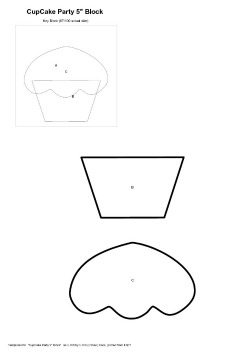 Here are a few tips that I use when assembling my blocks and borders
1. Make all the appliqué blocks up first. Before sewing them together do a quick remeasure to check that they are all the same size. If not trim where necessary.
2. Remember to use a dry iron.
3. Before adding your borders measure the width of the quilt in 2 to 3 places. Take the average measurement then cut your borders.
4. Mark center of the border strip and the quilt edge. Pin these centers. Pin remainder of border on matching the ends to the quilt. Sew. Repeat for each pair of borders.
Enjoy making your CupCake Party Quilt!
Below I have added another view of the quilt with sashing added. The sashing is 1" wide - the same as the inner border.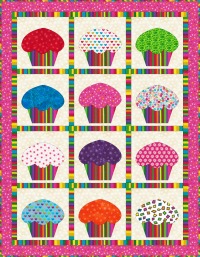 ---
Return From CupCake Party Quilt Back To Doll Quilts

Return To Quilts Home Page
Sign up for my newsletter below!