Wee Crochet Hat

Made January 2015
This wee crochet hat I made for my 18 month old grand daughter. My daughter showed me a gorgeous hat on the web but when I looked at the instructions they were in Russian. Not yet deterred by this wee stumbling block I managed to find a translated version of the pattern into English using Google. Unfortunately the pattern was still too difficult for me to follow. The hats are shown below and they are truly beautiful and designed by someone with great flare.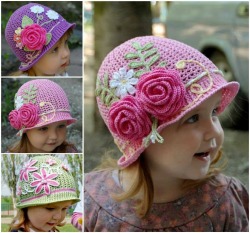 So it was off to my local wool shop for a pattern browse. I bought a Sirdar pattern number 3173 shown below, cotton yarn and a crochet hook. This pattern may now have been discontinued. The yarn I used was a cotton/acrylic blend by Jeans and knits up as an 8Ply. I chose this brand for several reasons. Firstly I loved the colour range and also it could be machine washed!
My first attempts at making this hat were abysmal to say the least. I noticed that I hadn't managed to make that beautiful spiral pattern on the top of the hat that increases the stitches on each row and my attempt was quite wavy when it should have been smooth!!

It had been many many years since I had done any crochet and then it was only using the treble stitch. Thank goodness I found a great set of crochet video tutorials. Below is the introductory video to the series.

Once I had finished the hat and confirmed that I had made it the right size, I needed to add an embellishment to cover the seam. So I looked for a free flower pattern to add onto the hat. I found a great one at MyPicot that I used.
This wee hat only took a couple of evenings to make from start to finish. So I'm going to make another one the next size up in mainly pink and add a flower using up the scraps for next summer!
One day I may choose to re-visit the Russian hat pattern and see if I can work it out. I just love the flower embellishments on each hat!

Sign up for my newsletter below!