Christmas Cracker

Block of the Month - 8 1/2" x 8 1/2" unfinished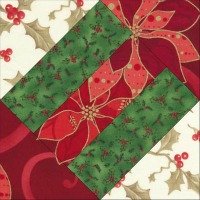 Make this Christmas Cracker block using patterned Christmas fabrics. The instructions below use red and green fabric but you may also use silver or gold fabrics as well.
Instructions:
Cut one rectangle from red fabric measuring 6 1/8" x 2 3/8"
Cut two rectangles from green fabric measuring 6 1/8" x 2 3/8"
Cut one neutral and one red square measuring 4 7/8"
Cut each square diagonally to form four triangles
Sew the three rectangles together alternating colors
Sew a neutral triangle along the long side of the green rectangles
Sew the red triangles on, to form a square
Click on the image above to download a PDF of this BOM.
This block is also known by the name ' simple on-point autograph block' in my EQ7 programme. Like most quilting blocks out there it is most likely known by a few other names as well. Anyway I have decided to name mine this way just to add to the confusion.

I saw a fabulous Christmas quilt made using this block quite a few years ago at a quilt exhibition and it left quite an impression on me at the time. It was made using non-traditional Christmas fabrics (blacks, golds and silvers). I remember it having a very Christmasy feel that probably came from the tinsel effect within the fabrics. Quite contemporary looking.
Hoffman fabrics do a range of Asian prints that are heavily metallic in their fibers. These would also look stunning in this block, giving it an Asian feel.

It is a very easy block to construct so hopefully you will get a lot of blocks made by your group members. I have yet to see the completed quilt that uses these blocks - maybe it was shown at one of the meetings I couldn't attend.
Below is a wee quilt showing one way to combine the blocks into a quilt.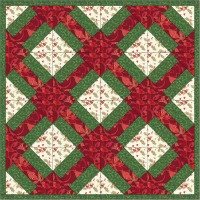 ---
My Amazon ads are my affiliate links. Thank you.
Sign up for my newsletter below!