Chain Piecing
Chain piecing is the technique that quilters use when making multiple identical blocks at the same time. It involves sewing two pieces of fabric together, one after the other, without lifting the presser foot on the machine or cutting the threads between the pieces. After all the pieces have been sewn together, they are then cut apart and pressed. This saves time and reduces the amount of thread used at the beginning and end of sewing each block.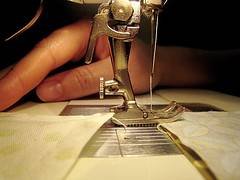 Photo courtesy of Bruce Turner
Chain Piecing Instructions
1. Have all the block pieces cut and ready to go.
2. Use a fabric scrap to start sewing onto so you avoid creating a messy thread bundle on the back of your block.
3. Sew through the fabric scrap and when finished don't cut the threads or raise the presser foot. Leaving a few stitches between each unit, feed the next unit under the presser foot and sew to its end.
3. Continue sewing as above until all the first units of the block are joined, remembering to not cut the threads between the units.
4. After you've sewn all the same first pieces together, use scissors or your rotary cutter to cut the threads between the pieces.
5. Press your seams and then repeat the process adding on the next piece of the block.
This assembly line technique can save a substantial amount of time and thread when making a quilt with many identical blocks.
Tips
1. Begin with a fabric scrap so that the corner piece of your first block doesn't get pulled down into the feed dogs.
2. Ensure your feed dogs are up.
3. Ensure you have your machine with the needle in the down position.
4. Have your fabric pieces ready and close at hand.
5. You only need to have a few stitches between the blocks - just enough to cut the blocks apart. This will take practise but it is a great thread saving tip.
Sign up for my newsletter below!