Bento Box Block

Block of the Month 9 1/2" (unfinished)
This pieced Bento Box block is a stunner and not difficult to make! Just perfect for a block of the month project. You will notice that it is made from 4 almost identical smaller blocks. The only difference is that in two of these wee blocks the colors have been reversed.
I was intrigued by the name of this bento box block so I did a little research and found out that a bento box is the name given to the food boxes used to serve Japanese food!

Each block is made 9" x 9" finished. You need two main colors for this block that contrast well with each other.

For those in your group that have made one or are thinking about making a Dear Jane quilt then this block could be seen as a wee starter because when broken down it is made from four 4 1/2" x 4 1/2" blocks - just the block size used to make the original DJ quilt!

Click on the image below to download a PDF of this BOM.

I have added a rotary cutting guide below that shows the dimensions needed for each piece within this block.
Click on the image below to download a PDF of this rotary cutting guide.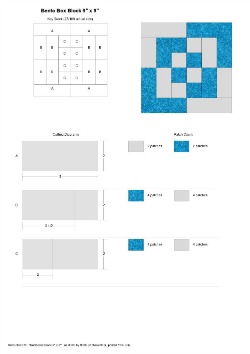 My advice when making this quilt:

This block has just 3 different sized pieces in it. I suggest you cut the large pieces first as follows.

1. Cut both fabrics into 2" wide strips

2. Cut two 5" long pieces from each color. I have labeled these 'A' in the BOM handout.

3. Sew the remaining 2 fabrics together along the long sides.

4. Cut from this sewn strip four 3 1/2" long strips

5. Cut four 2" long strips

6. Follow the piecing diagram in the BOM sheet to assemble the block.

That was so easy you'll be able to complete a bunch of these in no time at all.

My Amazon ads are my affiliate links. Thank you.
Sign up for my newsletter below!