Beach House Block

Block of the Month 8 1/2" x 10 1/2"
I only recently gave this Beach House Block pattern to my quilting group (2013) to do as our BOM, so have not yet had all the blocks returned and made into a quilt. We are currently working on two other quilting projects so I'm unsure how many quilters will take part in this BOM!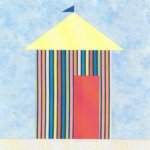 The images of the two blocks below are my blocks that I made to show the group how the block would look finished. Also I have deviated from the supplied pattern with both blocks so I hope that everyone has fun adding their own flair.
Below are the instructions I gave to the group to complete this project. Feel free to add, adjust or just use as is.
This applique Beach House makes you feel like you're at the beach. Use bright colors for the house. The back ground fabric is 8 1/2" x 10 1/2" pale yellow print similar to sand.
You may choose to widen the house slightly, change the roof line, add a window, remove the flag or reposition the door!

Below is a chart showing the size of pieces needed. The most important is the back ground size. Feel free to take liberties with all the other blocks.
| | | |
| --- | --- | --- |
| Name | Size W x H | Fabric |
| Background | 8 1/2" x 10 1/2" | Pale Yellow Sand Print |
| Roof | Triangle | Bright Print |
| House | 5 1/2" x 7" | Bright Print |
Click on the image below to download a PDF of this BOM.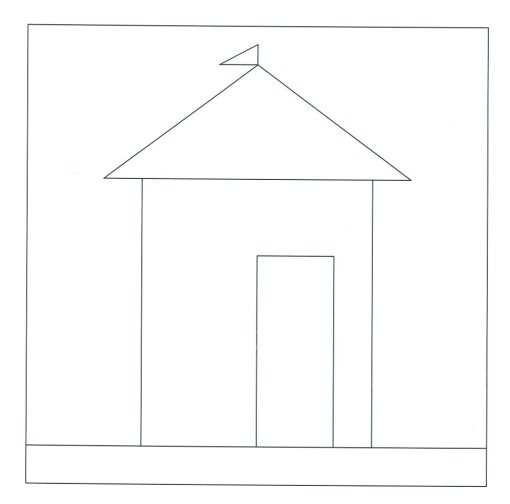 The inspiration for this block came from the web where I saw a completed quilt that had houses positioned around a pond/lake! So cool and different as there was no right or wrong way up for the quilt. If I win all these blocks then that is what I will do with them. Adding a bit of boat interest on the lake as well as some interest to the sky would make this a great lap quilt to bring out when the grand children come over.
---
My Amazon ads are my affiliate links. Thank you.
Sign up for my newsletter below!