My Applique Cat Quilt

Completed 2014

My applique cat quilt was my first introduction into the QAYG (quilt as you go) method. This is something I had been keen to try after coming across this technique. Here is a link to the tutorial I used from The Quilting Edge. Up until recently I have had most of my bed sized quilts quilted professionally. This method has allowed me to quilt this size of quilt by myself. At present I sew all my quilts on a traditional home sewing machine that has not been made for quilting quilts.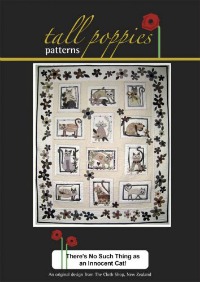 I came across this fabulous quilt pattern at my quilting group. It is a 'Tall Poppies' pattern. Several ladies in the group were making quilts using this pattern and or kit. Originally designed to be made from a more neutral colour palette as you can see above but a couple of the group were using different colour-ways.
There have been several extra cat patterns made available to add or substitute within this quilt and I have used several of these. They can be found here. You will notice that all the cat blocks I used are orientated the same way.

As I mentioned I had been keen for some time to make a quilt using the QAYG method and this quilt seemed like the perfect project to try this on. I have learnt so much about this method on this quilt and I'm keen to try it again in the future - probably on my Christmas Block quilt.
This quilt was designed to be made using raw edge applique. I have done my version of this using the blind stitch on my machine.

Below are individual photos of each block within my quilt and their names.

Estelle
For the border I had my greatest learning using the QAYG method. I should have made this at the same time that I made the blocks. But I didn't and found that when adding all the applique flowers that my stitching showed on the back of the quilt!!
My grand daughter is keen to have this quilt on her bed and I'm keen to find out how this quilt survives - being my first QAYG quilt I want to see how the quilt behaves compared to all the other quilts made using the more traditional method of assembly.

My Amazon ads are my affiliate links. Thank you.
Sign up for my newsletter below!