Creating Fabulous Quilts
Quilts tips and techniques all in one place.

Start here! This is the place to go when you are learning to quilt. All about quilts is filled with tips and techniques to help you start and complete your project...
Free Patterns
Quilt sizes
Block patterns
Applique instructions
Binding and Borders
Block of the Month
Rag quilts...
Since the birth of my granddaughter I have enjoyed making her several quilts. Most of all I have loved designing them with both my daughter and granddaughter's input. In the photo above is a single bed quilt I made where each applique has special meaning for my granddaughter. She loves it soooo much she brings it with her when she sleeps over! What nobody knows is that I didn't have enough fabric for the backing so I had to either get creative or spend more money!
The throw below was made from the scraps of fabric that I had left over. I seem to be acquiring an ever increasing stash of left over pieces of fabric! My granddaughter uses this almost every day. She makes beds in the lounge for her toys, wraps her dolls in it, uses it for picnic play.... It certainly helps her mum, as the larger bed quilt now stays on her bed all day, not to mention being much easier to wash and dry.

More recently I have made her a fabulous wee hexagon throw pillow for her bed ( it matches the two quilts on this page and has used up a few more pieces of fabric). While doing this I took step by step photos of how I did this and added it to my site under tutorials. I've never been into hand sewing but found this process quite enjoyable - enough for me to make 2 wee pillows!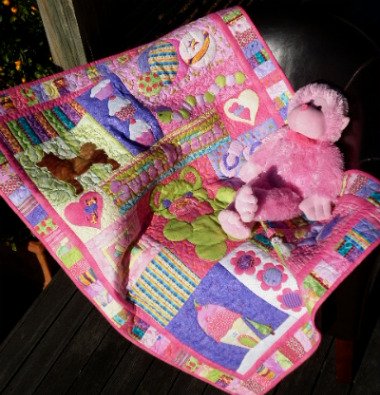 The more sewing I do the more enjoyment I get. I love designing new projects, choosing fabrics and seeing the design take shape. With all this I am learning so many new skills and alternative ways of doing quilting.
There are two projects I have particularly enjoyed doing. The first is learning free motion quilting online with Leah Day's Free Motion Quilting Project. If you have ever wanted to learn more about this fabulous craft or are just curious then visit her site - you will be inspired. I have now learned to finish a few of my own projects even though they are my smaller ones. It feels so good. All her information is free including videos and very detailed written lessons detailing each technique.

The other project I enjoy is going onto Pinterest (see my Pinterest button on the top right & left side of this page). This is a graphic social networking site. Here I have found a lot of inspiring ideas that I can pin on my own boards for future reference! I have even challenged myself to design 52 quilts in just 52 weeks! I pin each of these patterns for others to enjoy. You can also see these on my site under 52 Week Challenge. It has been a great way to explore more fully the scope of using EQ7 a quilt design software.

As I learn new tips and techniques I add them to my site or post them on my blog for you to enjoy. I am also adding a range of interesting information related to quilts on my blog. Some of this includes - book reviews, competitions, exhibitions, tutorials and techniques to fix wee challenges that we all face from time to time in our craft.

Creating quilts has become my passion!