Joannes Designs Week1

Greensleeves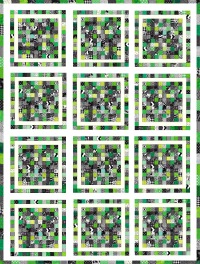 Joannes Designs Week1 Greensleeves was a quilt I made early last year (2011) while recovering from surgery. It absorbed most of my green fabric from my stash! If I were to make this quilt again I would decide on the bed it was to go on because it ended up being an enormous quilt. Maybe an 8 x 8 block center would have been better. When I showed the finished quilt top with my quilting group they all commented on how large it was! At the time I hadn't really considered how big it was.
I even played with the design of this quilt on EQ7 (a year ago)- in orange, then green and with quite a few different types of extra borders on the blocks.
One of these designs can be seen here at simple quilt designs. I'm so pleased I decided not to make it that size!
To make this quilt you will need quite a large number of 2" x 2" squares in whatever colorways you choose. The quilt is made from 12 blocks each measuring 21" x 21". To be able to add the second colored border of 2" squares you need to remember that the white border between needs to be constructed also from a 2" wide strip.
For the sashing I chose to use a 3" wide white strip. This gave enough definition between the blocks.
Click on the pattern Greensleeves Joannes Designs Week1 below to download a full size printable version in PDF format.
My advice when making this quilt:
1. Make the central block containing the 100 squares first. This can be done quite quickly by chain piecing.
2. Remember to iron each rows seam allowances in opposite directions so that your seams line up well. Take care not to over stretch the rows.
3. Attach white border strips to all blocks. Then add the last border of 2" squares to all blocks.
4. Begin attaching the 3" sashing, completing one row at a time.
5. When sewing on the long sashing do a quick remeasure to confirm the correct length for them. I found this quilt quite easy to tweak/fudge when aligning the seams.
Below is a photo of my Greensleeves quilt top laying on a queen sized bed. It has yet to be made into a quilt.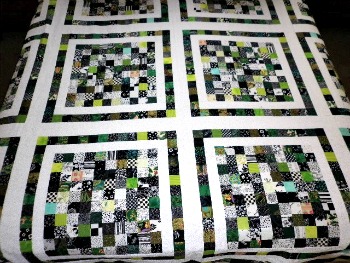 I hope you enjoyed Joannes Designs Week1. Just 51 patterns to go!
---
Return From Joannes Designs Week1 Back To Pinterest

Return To Quilts Home Page