Stunning Applique Rag Quilt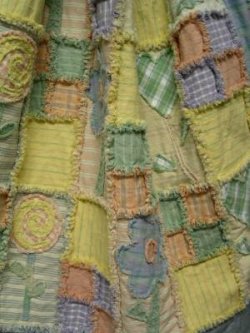 This applique rag quilt is another example of a rag quilt. You will notice that it is made up of a variety of blocks each rectangular in shape. The added interest here is the applique designs that have been added. You add these applique designs onto each block top fabric either before you sew each layer of block fabric together or after to secure the three layers of fabric together.
To learn how to applique go to my free Beginner Applique Course or visit my Applique Tips & Techniques page for tips about how to make your applique more successful.
To make this quilt you will need two extra supplies.
*1 - Simple designs to applique. Children's coloring-in books are a great source of excellent but simple designs to use for applique.
*2 - Steam a Seam to attach your applique design to your quilt before sewing it on.
Simplified Applique Rag Quilt Instructions
Step 1: Cut flannel squares and rectangles for the top of your quilt, backing and a third set for the middle from either flannel or thin batting
Step 2: Sew applique designs onto selected pieces, remembering to stabilize your background first and use steam-a-seam to attach your design to your quilt
Step 3: Make a sandwich by placing one backing square (wrong side up), position a batting square centrally and another top square (right side up) on top, making a fabric sandwich. Stitch through all layers to secure
Step 4: Join the squares and rectangles into rows with a 1" seam allowance
Step 5: Join the rows together
Step 6: Sew a 1" triple seam around the entire quilt.
Step 7: Clip each raw edge at 1/2" (1 1/2cm) intervals and up to an 1/8" from the seam.
Step 8: Machine wash your quilt and then dry your quilt in the dryer using a hot setting
---
My Amazon ads are my affiliate links. Thank you.
Return From Applique Rag Quilt Back To Rag Quilts

Return Back To Quilts Home Page