Baby Bibs
Free Pattern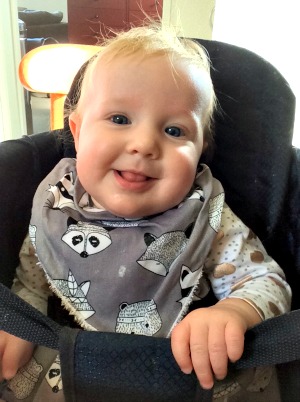 With the arrival of grandchild number three it was time to make some more baby bibs. Searching the web I came across this fabulous bandana bib pattern and it was free. I loved making these very simple but highly absorbent bibs.
Steps
Print out pattern from here
Cut out fabric on fold
With right side together pin one backing piece to one front piece
Pin pleats in place on inner neck edge (you can see these in the photo below and also the direction that I have placed the pleat. The bib still works if the pleat lies in the other direction but I found from experience that the top fabric doesn't drape as well.)
Stitch around edge remembering to leave an opening large enough to turn bib out to the right side
Top stitch close to the edge
Wash bib to soften and allow it to drape softly
Using the pattern above I have made about 16+ bibs in all sorts of left over fabrics. They are super quick to make and my daughter loves them. She tells me they are the best bibs she has ever used as they last longer than most before becoming too damp. I think this is because the top layer has more fabric than the backing layer & this allows the air to circulate through the top fabric causing a drying effect.
This pattern also has a wee pleat either side on the neck edge and does not require super accuracy but this pleat allows for more fabric and a nice fold effect to happen. Anyway we both love them!
For my backing I used towelling but I have read that you can use a range of other absorbent fabric. For the front of the bibs I used cotton fabrics from my stash.
There are only 2 seams to sew to create these lovely bibs and one of those is the top stitching that also closes over the opening where you turn the bib out the right way - so super simple and very quick!!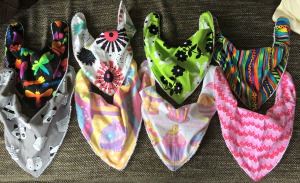 My Amazon ads are my affiliate links. Thank you.
Return From Baby Bibs Back To Quilt Pictures