Sashings
Lesson 5
Sashings are a method used to join a variety of blocks together to make a quilt. They can be very simple or as complex as you want. I find the best way to determine what colour and width to make them is to lay your finished blocks out either on a design wall, bed, table top or floor.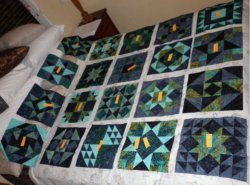 There is no correct width to use, it all depends on your quilt size and personal choice. Remember to add seam allowances. So if you cut them out 2 1/2" wide then the finished width will be 2".
Another consideration is whether you want to add cornerstones. These are usually squares in a contrasting fabric that are placed at the corners of the blocks.
To add sashings and cornerstones to your quilt follow my method below.
1. Determine the number of strips you need by laying out your blocks on the floor.
2. Completing horizontal rows first, cut the number of strips required and sew one between each block. Press. Repeat till you have all rows finished.
3. To sew rows together measure the length of each row and take the average length. Cut strips to this length and sew rows together.
If you are wanting to add cornerstones to your quilt then you add these at step 3 above. Cut squares of fabric the same width as already used when joining the block. Sew strips and cornerstones together, press. When all rows completed add them to each block row pinning them first to ensure accurate seam placement.

Congratulations! All you need to do now is add your borders to finish your quilt top.
Return From Sashings Back To Easy Quilts

Return Back To Quilts Home Page
Sign up for my newsletter below!