Fabric Grain
Lesson 2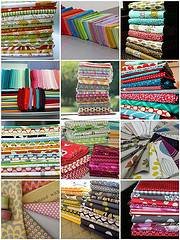 What a difference knowing about fabric grain has made to my finished quilts. If you have had difficulty getting your quilt to lie flat once completed, then this could be the solution to your problem.

3 Types of Fabric Grain

When looking at the grain of your fabric we are talking about the direction that the threads run. From a quilters perspective, we talk about a piece of fabric having 3 types of grain:
Lengthwise grain: Also known as straight of the grain. This runs parallel to the selvage and is the strongest of the grains. If you were to pull a piece of fabric on the straight of the grain it has the least amount of stretch. Templates and patterns usually have the lengthwise grain marked on them using an arrow. Cutting your borders using the lengthwise grain is best.
Crosswise Grain: This runs perpendicular to the lengthwise grain and it has a little more stretch. In quilting this is best used for making your binding strips.
Bias: The true bias of fabric runs at a 45 degree angle from the lengthwise and crosswise grains. This has the greatest amount of stretch.
Step 3: Rotary Cutting your fabric into strips is a lot easier when cut along the lengthwise grain (parallel to the salvage). Using your large rotary cutter, cut your strips to match the template widths you are using. When using Marti Michell's templates it is very important to place them on the lengthwise grain as marked on the template.
Grain of Fabric Tip When cutting your borders & bindings it is best to cut them on the lengthwise grain. This does use more fabric but the end result is well worth the cost.
There are of course times when it is not essential to use the grain of the fabric. One of these is when paper piecing blocks. I am currently making my DJ quilt which involves quite a bit of this technique. I have fussy cut fabric to suit and totally ignored the grain. Fortunately the paper offers stability. The other time is when cutting out your applique pieces.
If you don't want to or can't cut your fabric on the appropriate grain then using a bit of spray starch will help stabilise your fabric while you sew it into your quilt. Often by the time the quilt is finished the starch has all been removed. Of course a quick wash will remove any residual starch should you feel the need to do this.
Sign up for my newsletter below!