Hi



Issue #7, October 14, 2018


Hello!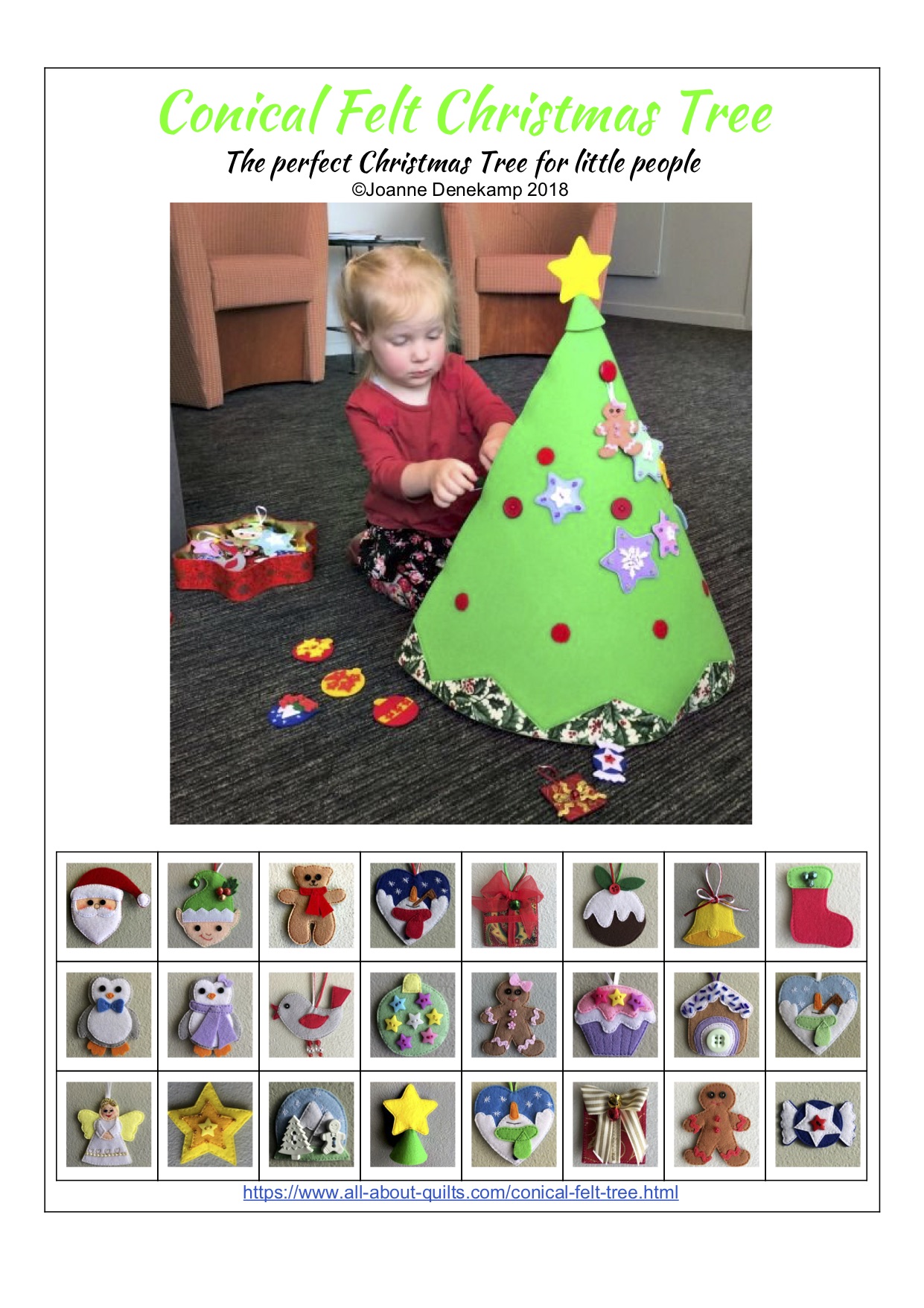 Thank you all for your patience...

Drum roll please...



Conical Felt Christmas Tree pattern is Available!

My Conical Felt Tree pattern is now available on my site. The pattern includes full sized tree and decoration templates ready for immediate use.

It is made using 5mm thick felt and this is then covered in Velcro fabric. I have added the suppliers for both these products in the pattern.

This tree helps to develop the following skills in young children:

* Decision making - with so many decorations to choose from and two different methods of attaching them there are many decisions for wee minds to make

* Eye hand coordination - each decoration requires wee hands to place them on the tree. Some can be put anywhere but others can only be put on the tree one way eg the hanging ones

* Fine motor control - to place the hanging decorations on the tree, the ribbon needs to be held by both hands using the pincer grip for wee hands to have success

* Problem solving - sometimes the decorations fall off due to poor or incorrect placement and this wee problem needs solving

* Language development - this is predominantly vocabulary extension for the very young - colours, counting, decoration names or groups of the same type of decoration (eg stars) are all great conversation pieces. Asking questions like - where are you going to put that decoration? How many stars have you put on your tree? Can you find the.... decoration? Which is your favourite decoration & why? and so on.....

I hope you enjoy making your Christmas Tree for some one special...

Alice Quilt Pattern

Thank you to all the quilters who have bought my pattern - I hope you enjoy making your quilt.

I have had 2 people who ordered the pattern, have difficulty downloading it due to its very large file size. Fortunately they both contacted me via my website using the 'Contact Me' button at the bottom of the page and I was able to email them an alternate file of the same pattern.

If you have had difficulty then please contact me...

I will be re-visiting this pattern and reducing the image file sizes etc where I can, to over come this problem.

What Next?

My husband & I will be on the move in mid November so everything on the quilting front is going to be very quiet for a while - predominantly because we will be packing everything up and putting it in storage. We hope to be finalizing details over the coming weeks...

A Free Pattern Source

Here is another supplier of free quilt patterns - visit

Free Art Gallery Quilt Patterns . Here you will find many pages of patterns to scroll through! Enjoy.




Until next time