Nightime Cat Antics
Made in 2011
My nightime cat antics quilt is the result of winning a set of starry path blocks from my monthly quilt group. It was my first attempt at making a block pattern using the paper piecing method. Most of the women who made up these blocks found it quite frustrating but when they saw what I did with them they were very pleasantly surprised. The one key to reducing your frustration is to ensure that your fabric pieces are more than big enough to cover the required pattern area.
I found the cat and star pictures using google. I searched 'cat images' or 'star images' until I had a group of cats & stars that I could use as a base. For Nightime Cat Antics I was looking for cats that were doing something - jumping, climbing, cleaning etc. With a little tweaking to their tails length and angle, body width or ear size, I made them more suitable for applique. I then had cat & star drawings that needed resizing. This I did on my photocopier. The same process was used on the mouse. I used a very large plate for the moon.
This quilt is going to one of my daughters for her next baby. I made it as a large crib/cot quilt so that it would also be able to be used on a twin/single bed for the childs next few years as well.
Below is a brief tutorial showing how I made this quilt.
Here is the 6" Starry Path paper piecing pattern. Once printed off write fabric colors to be used in each area. Any 6" block can be substituted here. So have fun and choose your favorite.
I used a range of blue and black/white fabrics from my stash. Using a blue and a black on white fabric right-sides together position with pattern right side up on top.
Sew along the dotted line.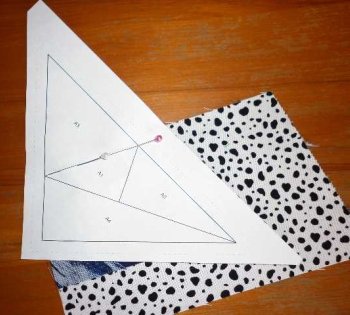 Position matching black on white fabric along the second line. Stitch and trim.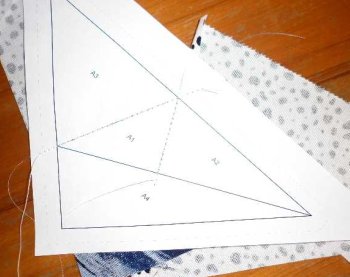 Here is the front view so far.
The above photo shows the block before trimming. Below shows the starry path block trimmed along the 1/4" seam allowance.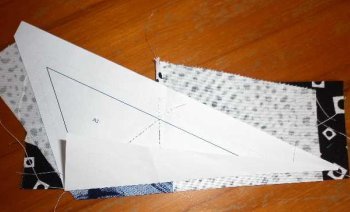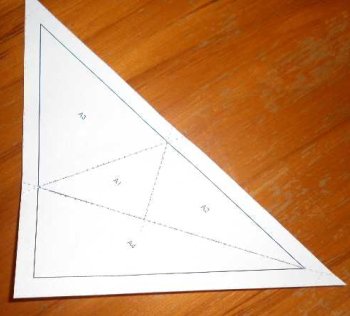 Above shows the starry path block from the back. Seams sewn and trimmed along the 1/4" seam line. Below is the front view of the starry path trimmed block. Repeat three more times using the same fabrics. Sew together with papers still in place! You don't remove the papers until the quilt top is finished.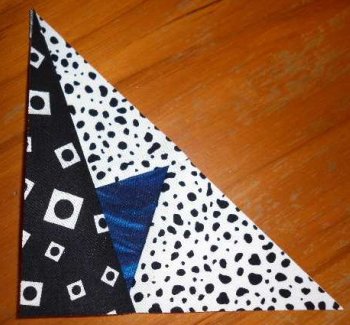 Here are some of the blocks laid out on my table.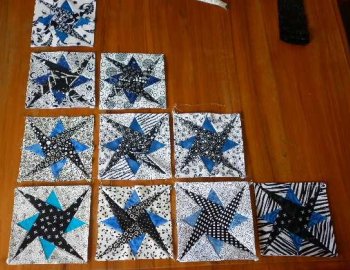 Add sashing to both sides of the blocks joining them together as you go.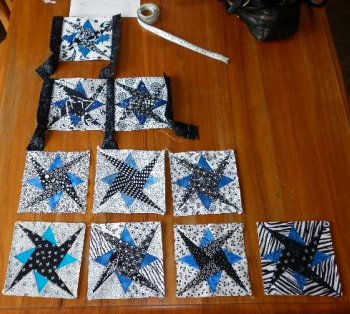 Sew sashing to the top of each row. Measure the height of the rows and add blue strips to the right side. Each blue strip will be a different length due to the step formation. Sew rows together being careful to line up vertical sashing. Once completed add last blue block to the top of the quilt. Trim to required size.
Border in black. Add extra borders as you want. My border fabric has wee cat paw-prints in blue all over it.
Now it is time to add the applique cats, stars and moon. I did machine applique using steam-a-seam and a little spray starch on the quilt back to stabilise the area of fabric that was having the applique added. I have a machine applique tutorial that shows how I do my machine applique.
Finished quilt size for Nightime Cat Antics is 50" x 57".
The quilting was done by my friend Jeannie and you will notice that the horizontal seams have been cleverly disguised by her quilting of nightime cloud formations.
Return From Nightime Cat Antics Back To Quilt Pictures

Back To Quilts Home Page