My Garden Cat Quilt

Quilt Top Completed 2014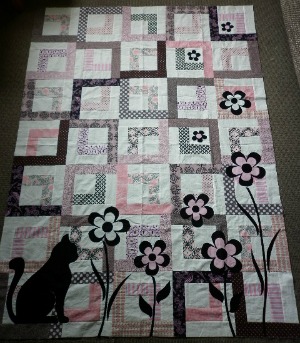 Here is my cute Garden Cat Quilt that was designed by my daughter Katherine and I - a free pattern for you to download. If you are new to applique then this is an ideal quilt to start with. Each applique shape has been designed with simple edges to sew around using the raw edge applique method and the placement of these pieces on the quilt is not critical!

To make this quilt you will need:

- One Jelly Roll (2 1/2" wide)

From 42" wide fabric

- 2 yards Cream

- 3/4 yard Plain Black for appliqué

- fat quarter Pink appliqué flowers

- 41/2 yards for backing & binding

- batting 60" x 80"

- thread of your choice

Free Garden Cat Quilt Pattern
Half of the flowers - the smaller ones above the height of the cat have no stems as they are floating away in the wind.

Below I have added a photo of one of the blocks in the quilt and the strip sizes I cut to make it. The block finishes 10" x 10".

From light fabric cut:

1x square 4 1/2" x 4 1/2"

1x strip 2 1/2" x 6 1/2"

1x strip 2 1/2" x 8 1/2"

From dark fabric cut:

1x strip 2 1/2" x 4 1/2"


1x strip 2 1/2" x 6 1/2"


1x strip 2 1/2" x 8 1/2"


1x strip 2 1/2" x 10 1/2"




Below are close up photos of the appliques. The method I used was raw edge machine applique. I applied all my appliques using

Warm Company Steam-A-Seam Lite 2 Double Stick Fusible Web 9"X12" Sheets 5/Pkg
The thread I use by choice is Madeira rayon due to its lovely sheen.

Below I have added the full size applique patterns for you to download and use.

How this quilt came about

My garden cat quilt was a design my daughter Katherine & I created that had been inspired by a range of factors. Firstly I had bought a jelly roll while on a quilting bus tour and I wanted to use it and the background block choice came from the quilt I loved here.
Once the blocks were made and sewn together we were very disappointed in how lifeless the top was. What to do?? With my daughters help in design we created all the appliques using the EQ7 quilting software programme.

No border has been added to our garden cat quilt top yet as we're not sure whether to add one or not. It currently will finish at 50" x 70" which is just right for a babies bed but if we add borders then it will be big enough for a child's bed. Um - decisions. I can see it will sit folded away for a little while yet until a gift is needed or inspiration gets the better of us. Always good to have a project or two to finish at a later date - that's my excuse!!

Return From Garden Cat Quilt Back To Quilt Pictures