Double Bed Quilt Information
To make a double bed quilt you will need to work out the exact size you want to make it, how much batting you will need and how much backing fabric to use. My fabric guide is on the generous side. This allows for fabric width discrepancies, removal of salvages and shrinkage variations from prewashing your fabric.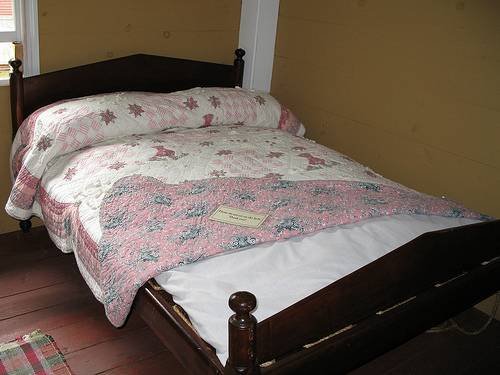 Photo Courtesy of Jim, the photographer
The information in the chart below is a guide only. I have based my calculations on the following data:
* 45" (115cm) wide fabric
* fabric is being cut with a rotary cutter
* fabric is washed
* batting is 2" (5cm) wider on all sides
* backing fabric is 6" (15cm) wider on all sides
* binding is double fold, cut width 2 1/2" (6.5cm)

When purchasing fabrics for my own quilts I always buy a bit more than I need as I have sometimes run out and gone back to the shop for more fabric only to be told they have sold out! How much extra fabric to buy is not always easy to determine. There are several ways of buying extra fabric:
* Buy an extra 1/4yd (25cm)
* Buy an extra fat quarter
I now prefer to have leftover fabric - it comes in handy if I change my mind about the design or make a mistake when either cutting or sewing. One double bed quilt I made my daughter had a 15" drop on three sides but it also looks good on a single bed as well as a queen size bed!


Double Size Quilt Reference Guide in inches
Measurements are approximate and given for standard US mattresses
(Width X Length)
Drops are on
3 sides

Double Mattress
(54 x 75)

Batting

Backing
Fabric

Binding
Double Fold

with 10" drop
& 10" tuck

74 x 95

76 x 97

7 3/4 yds yds

7/8 yd

With 15" drop
& 10" tuck

84 x 100

86 x 102

8 1/8 yds

1 yd

With 20" drop
& 10" tuck

94 x 105

96 x 107

8 3/4 yds

1 1/8 yd
Double Size Quilt Reference Guide in cm
Measurements are approximate and given for standard European/Australasian mattresses
(Width X Length)
Drops are on
3 sides

Double Mattress
(138 x 190)

Batting

Backing
Fabric

Binding
Double Fold

with 25cm drop
& 25cm tuck

188 x 240

193 x 245

5.4m

.8m

With 38cm drop
& 25cm tuck

214 x 253

219 x 258

5.8m

.8m

With 50cm drop
& 25cm tuck

238 x 265

243 x 270

6m

.9m
Return From Double Bed Quilt Back To Quilt Sizes

Return Back To Quilts Home Page